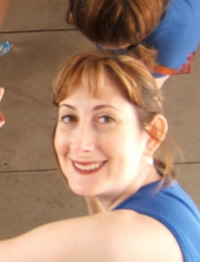 About the bride
Melissa is the daughter of loving parents Michael and Bonnie Birnbaum, and sister of Kevin Birnbaum.  She grew up in Illinois and California.  Melissa grew up with a love of music and began singing shortly after beginning talking.   After high school, Melissa went to school at UCLA, majored in psychology, and met many of the people who are still her closest friends.  After finishing graduate school, she went on to her current career as a School Psychologist in Long Beach CA.  Melissa has lived in Long Beach for the past ten years, and has an adorable dog named Wilson. Melissa met James on August 12th, 2008 and a whole new chapter of her life began.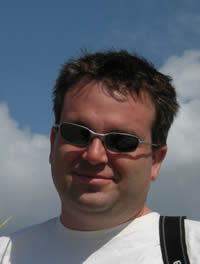 About the groom
James is the proud son of Phil and Lyn Bailey and grew up with younger sister Christie. Having grown up all over Southern California, he can't really call a single city where he grew up. He went to college at CSU Fresno, originally majoring in mechanical engineering because of his love of cars, but switched to computer science to utilize his talents. Since then, he's worked at several startups, bringing to fruition visions of several CEO visionaries. His knowledge of software technology and business practices has helped him succeed in his career and placed him in a good position for his future. Recently, he changed to being a software consultant, which has helped immensely in getting the time available for wedding planning and house reconstruction. His hobbies include cars, gardening, playing computer and card games, reading, and cooking.
Our Story
Melissa and James met the old fashioned way: on a dating website. They met for their first date at "the Pike", a dive bar in Long Beach where one of James' friends was playing in a band that night. After going to another restaurant for dinner, they went back to the bar and listened to the band and did some people-watching together. James introduced Melissa to his friend Randy, never mentioning that they had only met a few hours before. One year after their first date, they went back to the Pike to see Randy play again, and told Randy it was the anniversary of their first date.
James proposed to Melissa on Thanksgiving Day, 2009. He had planned to surprise her after she came home from choir practice the night before. After a long day's work Melissa came home and changed into pajamas to rest a while. She told James she was definitely going to go to choir practice. After James kind of hinted he would like her to stay, and she got sufficiently sleepy, she changed her mind and decided to stay home, messing up his plans to set up a surprise while she was gone.
He then invited her to go to dinner, so that he could put a plan B into action (taking her to a nice dinner and surprising her on a walk by a scenic setting). Not knowing what the real motive was, Melissa said she wanted to stay home and rest and didn't feel like going out to eat. So she messed up plan B.
The next day (Thanksgiving) Melissa and James got ready to go to her uncle's house for dinner. James tried to get Melissa to dress up, but she remained in her casual outfit, thinking it might get cold in the evening. Eventually, James called her to go look through the closet with him to see if he could help "dress her up". He then took out the box with the ring.
Later that day Melissa and James shared the news of their engagement at her aunt and uncle's house.