Our wedding party
Bridesmaids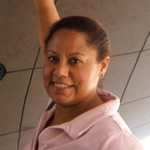 Johnna Christian, Maid of honor
Johnna is currently a Criminal Justice professor at Rutgers University and lives in New Jersey.  Johnna and I met in our freshman year of college at UCLA.  We both were in the University Choir and also lived on the same floor in the Sproul Hall dorm.  After recognizing each other from choir, Johnna and I had dinner at the dorm, and we began our nearly 20 year (?!?!) friendship.  Johnna introduced me to Julie and Grace, and we all ended up living together for 2 years in Westwood after 2 years together in the dorm.  We shared many happy times during college and the years after.  In 2004, we adventured together through Italy, Greece, Turkey, and Croatia and created many lasting memories, some of which we might be willing to share.  Johnna has an affectionate nickname of  "the dark cloud" due to her ability to give us a "reality check", as needed.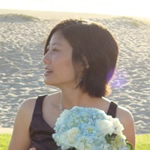 Julie Ha, Bridesmaid
Julie is a writer and editor at Koream News magazine, wife of Sean Chung, and mother of Erin and Kira.  Julie and I met in the dorms freshman year, when Johnna introduced us. We shared a tiny little dorm room together sophomore year, before living together at the apartment on Tiverton for 2 years.  Julie is always conscientious, hard-working, and thoughtful.  Luckily for me, I've gotten to know both Julie's serious and silly sides.  We've shared many great times and hard times together.  Julie is a reliable and compassionate friend.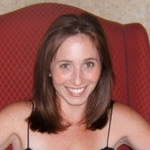 Danielle Kramer, Bridesmaid
Danielle is an actor, writer, private tutor, wife of Lewis Kramer and mother of Ella and Jude.  Danielle and I met while waiting in customs at Heathrow Airport in England.  We were embarking on a summer study abroad in Stratford England, studying "Shakespeare and his Theater." We figured out later that we were both psychology majors at UCLA, and had even taken a 6 person lecture section together. However, we never spoke to each other before meeting in England.  We both took the trip without knowing anyone who would be there, and as we rode on the bus to Stratford, we chatted all the way.  We decided we needed to switch rooms and be roommates together.  During the trip we bonded while reading Shakespearean plays out loud in our hotel room while snacking on tea and English kit-kats (The chocolate tastes better). We have been friends since.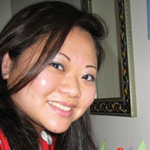 Stephanie Karadzic, Bridesmaid
Stephanie is a media buyer, newlywed to Branamir, and recent transplant to Seattle WA.  Stephanie likes to say that she "adopted" me as a friend.  Stephanie has been friends with Julie and Grace since high school.  Stephanie moved back to Southern CA, after spending most of her undergraduate years in San Diego, during my senior year at UCLA. I met Stephanie through Grace and Julie, and we started hanging out together.  Over the years of me hanging out with this group of Catholic high school friends, Stephanie decided I could be an honorary member of the high school gang.    We developed our own friendship over the years.  Stephanie is a self-described "shopaholic" (although currently in recovery) and resident fashionista.  With her naturally outgoing and effervescent personality, Stephanie also was the best "wingman" a girl could ask for throughout my many years of single-hood.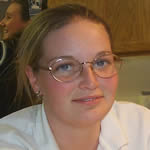 Christie Bailey, Bridesmaid
Christie is James' younger sister by two years. Growing up, they had their differences, but distance during James' tenure at college tempered that and they've been good companions ever since. Quick to laugh, and loudly, she enjoys the company of friends and spending time with her dad. She fell in love with Lake Tahoe at an early age and moved there in the early 2000s. She has worked for various resorts in the area, although she lives with her two dogs more off the mountain in Gardnerville.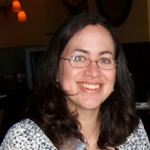 Grace Jimenez, Bridesmaid
Although Grace will not be able to attend the Wedding, she is a Bride's Maid in spirit.  As described above, Grace has been my friend since college.  We were roommates, Gospel-choir mates, Mariachi group singers together among other fun times.  Grace has gotten me to "attempt" Salsa dancing, which is among the many dance forms that she pulls off so effortlessly.   Grace is married to Max Lapertosa and mother of Nicky.  She is currently living in Virginia.  We will miss her at the wedding, but are glad she will be there for the shower.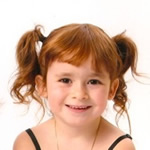 Ella Kramer, Flower Girl
Ella is the adorable daughter of Danielle and Lewis Kramer. She is 6 years old and enjoys dance, piano, and spending time with her friends and family including her little brother Jude.
Groomsmen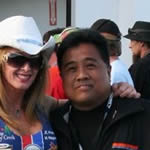 Gary Salva, Best Man
Gary Salva currently works for the sanitation office of LA county. His hobbies include 4x4 off-roading, autocrossing RX-7s, and sports firearms. James and Gary met through the Southern California RX Club back in the early 2000's and joined the board of directors. Through that association, he re-introduced James to the interest in sport shooting and they now go periodically. Gary is meticulous about maintaining his first-gen red RX-7.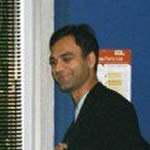 Ahmad Ali, Groomsman
Ahmad and James met at a previous company, eCompany, back in 2000. Since then, they've worked at three companies together, one where the two ran a small consulting company. Ahmad has always been a good friend in the bad times, yet sometimes flaky about showing up for things. He's Indian but grew up in London and graduated from Princeton in the US. He has a very classic view on life and is an excellent conversationalist. Women beware!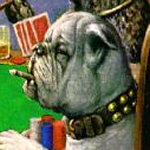 Tim James, Groomsman
Tim and James met originally during high school when they rode the same bus to high school. They didn't really become friends until both worked at Jack In The Box and the rest is history. From the days of taking Tim's scooter over the hill to school, to both going to work at Souplantation, Tim and James were fast friends. Later interests in
Magic: The Gathering
and
World of Warcraft
kept the two in touch despite periods of quiet. Today, they're known to meet periodically to play MtG and follow Blizzard's new games.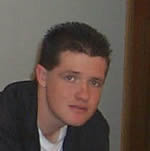 Rob White, Groomsman
Rob is James' first cousin (mom's sister's son) and is eight years younger than James. He's always had a love of baseball and food. Lately, he moved to New Jersey with the long-time girlfriend Missy and is currently getting the swing of East Coast living.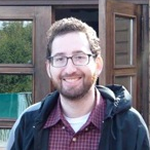 Kevin Birnbaum, Groomsman
Kevin is a quantum physicist (really!) at Jet Propulsion Laboratory (JPL), lives in Pasadena CA, and, most importantly, is the awesome brother of Melissa. Although Kevin is almost 6 years younger, he and Melissa have always been close, even if she spent most of their childhood gently guiding (some might say "bossing") him around.  Kevin is smart, cool, funny, and multi-talented.  He enjoys artistic endeavors such as stone cutting and polishing (lapidary), drawing, and sculpting.  Kevin has always been a huge emotional support for Melissa.  He has a Zen-like calm personality and although he is loath to give advice, he has always been a supportive listener and readily supplies comic relief.